"I am an associate Counsel/Legal Division UAE, who is one of the many who went to New Hope IVF. I started going to New Hope IVF on or about April 2012 and after an abandoned cycle (due to non-responsiveness) in June 2012, I underwent a complete IVF cycle in November 2012 and am now pregnant with twins! During that time, the doctors kept a close eye on my condition by routine exams and blood tests. They recommended a couple of minor operations and procedures that I undertook at New Hope IVF itself and was very happy with the care and treatment I received in the operation room and beyond.I got to know all the staff closely whose professional advice and direction I followed to a tee. The standard of care at New Hope IVF is very high and the doctors spent as much time with me as necessary for the right result and even recommended at what point I should go for the treatment – I felt comfortable that New Hope IVF was not just in it for the money but for the result. I had regular scans during my IVF cycle to make sure that I was healthy and ready for the treatment. My antenatal scan post-pregnancy were done with attention to detail so as to reassure me that the babies were growing at the right rate.The doctors checked for abnormalities routinely in every scan.I whole heartedly endorse the entire team at New Hope IVF who have become a second-family during the time I underwent treatment with the staff there. The staff and service is efficient, very friendly and caring and most importantly, highly competent. I will be forever grateful to the team for the positive result of my treatment and for the lovely people I got to know at New Hope IVF."
I am offering my thanks and gratitude to all the staff working at New Hope IVF in Sharjah. To the General Director and the doctors, and nurses, for the attention and sincere care that my husband and I felt from the first minute we attended the hospital and until God graced us with our little baby girl – "may God protect her".
I thank their wonderful clinic and unique services. Their state-of-the-art equipment that we never saw anywhere else we visited during the 10 years of treatment we underwent in the UAE and elsewhere. Swear to God that I have never attended any medical Center that gave me the psychological support and peace of mind and heart that I have experienced in New Hope IVF. All this to help me and other patients achieve a healthy pregnancy. I have noticed with my husband the unique care and attention to details, before, during and after the operation, all to pinpoint anything that would help me conceive.
I cannot but hope and pray for all the members of the team in New Hope IVF, all the success in helping others conceive and fulfil their dreams of becoming parents.".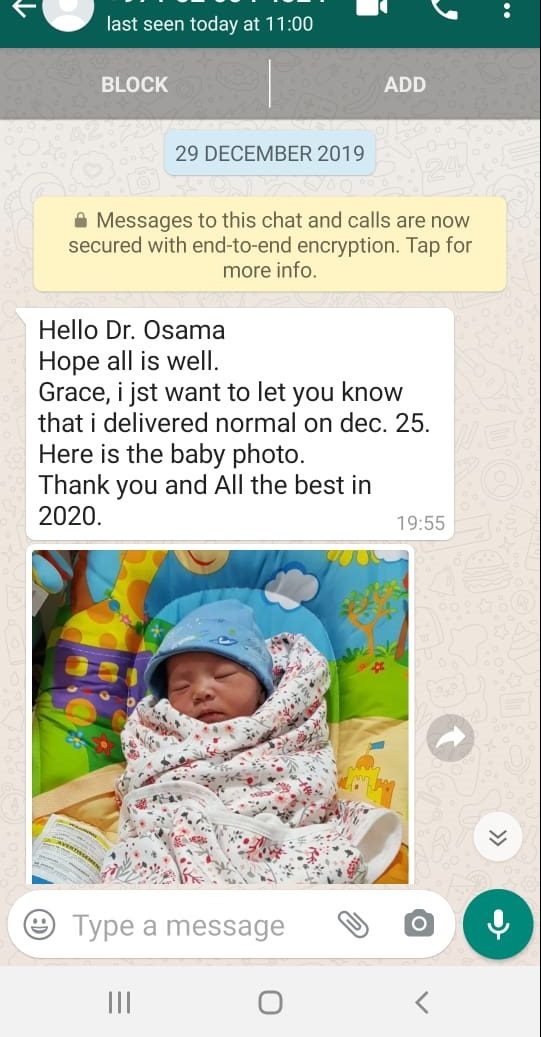 For More Information or to Get Started on Your Journey Today
Contact Us Online or Give Us a Call